STAGE #7…  Exit Strategy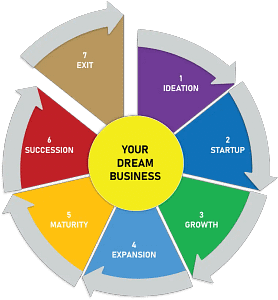 CHARACTERISTICS:
Having invested money, effort, and years into your business, you want to see it move forward after you retire or hand over leadership to a successor. Or suppose you receive a great offer to sell your business; it's crucial to know in advance how you will exit.
Whatever may motivate your exit, you should have an exit strategy to make informed decisions when leaving your business. It's never too early to start planning for your exit.
STATISTICS:
According to UBS Investor Watch, 48% of business owners intending to sell their businesses lack a formal exit strategy. Without an exit plan, you have minimal odds of increasing business value or knowing the best time to sell it.
The Exit Planning Institute found out that up to 66% of owners of private businesses are unfamiliar with all their exit options. The Institute further noted that many business owners undertake little to no exit planning.
GOAL(S):
Guide you through the exit planning process and mentor you on maximizing your business value during exit.
CHALLENGES:
Common challenges associated with exit planning include:
Planning too late
Failure to consider all exit options.
Neglecting tax ramifications
Fear of succession confrontations, especially in family businesses
FOCUS ON THE FOLLOWING ACTION:
Start planning early to avoid running out of time in case your goals, current market conditions, or the value of your business changes.
Determine your needs, wants and desires to leave your business.
Assess the tax implications of your exit plan early to know which strategies can help reduce your tax burden. It also helps to know the net proceeds for different exit scenarios.
Explore all exit options to identify one that fits your goals and requirements.
BOTTOM LINE:
Many business owners need to plan for their exit. As a result, some are caught off guard when the time comes to exit. For others, exiting a business occurs when they least expect it. Whatever exiting looks like for you, start planning early to ensure a smooth exit and continue capitalizing on your profit.
INTERVENTION:
Various factors can motivate exiting, making developing a comprehensive exit plan almost impossible. Sometimes, the process can be chaotic or frantic, especially when the need to leave comes when you are unprepared. But you can avoid this by consulting for exit planning, thanks to the ease of hiring Business Development Consultant Terry H. Hill.
You don't have to figure out everything independently. Let's explore how Terry assists business owners like you through exit planning and capitalizing on your profit.
EXIT STRATEGY CONSULTING BY TERRY: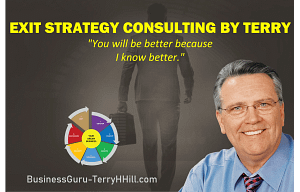 Exit Strategy Consulting by Terry is an independent third-party guide that helps business owners to develop a plan for exiting their businesses. Terry assists you in creating an exit plan as well as strategies you should implement to capitalize on your profit. With an exit plan, you are assured that your business is exit-ready, even when the unanticipated occurs.
Terry leverages the best practices he has acquired through decades of first-hand experience guiding business owners to create exit strategies. Known as a critical thinker and an "out-of-the-box" strategist, Terry has gained a keen understanding of the issues and challenges surrounding exit planning.
As an exit planning consultant, Terry and his trusted advisors will guide you through everything you need to know and implement to ensure you and your business are exit-ready.
Suppose you are looking for high-level advice on exit planning for your business. In that case, Terry will help you with advice and counsel on your business exit strategy and assist you in developing a comprehensive exit plan.
HOW DOES EXIT STRATEGY CONSULTING BY TERRY WORK?
Terry understands that the central aspect of exit planning is readiness. Although all exits are unique, he believes every exit requires the readiness of the owner, business, and market. Seeking exit planning consulting services from Terry helps ensure readiness in all these areas.
Terry will meet with you to discuss your needs, desires, and wants to leave your business. These may be motivated by factors such as the need to sell your business, hand over leadership to a successor, retire, etc.
Terry will advise and assist you in creating an exit plan that clearly expresses your wants, needs, and desires. Based on this plan, he will help you to develop an execution strategy that focuses on your goals and requirements.
The consulting engagement with you and your company is based on a policy of written confidentiality, nondisclosure, and non-compete agreements. These agreements establish trust, openness, honesty, professionalism, and commitment for our relationship and engagement to succeed. Terry believes this policy ensures your confidence and integrity in the process.
THE BENEFITS OF EXIT STRATEGY CONSULTING BY TERRY

The success of any business hinges on advanced strategic planning. Your exit is no different. That's why every owner must know what an exit plan is when exit planning should start, and how to create and measure a successful strategy.
Maximizes business value.
As a business owner, you are the primary force that drives and steers your business to success. So, exiting your business is a significant factor that can drive your business value down. But Terry helps you avoid that by developing plans and strategies that maximize business value during your exit. This is especially important ahead of a sale. Besides, he advises and assists you in improving profitability after you leave.
Although making money is central to running any business, it is not the only reason you do business. It takes passion and hard work to start and steer a company to success. Whatever remains after you exit becomes your legacy. No business owner would want to imagine their business collapsing after they exit. The easiest way to ensure your legacy remains and make your business thrive is to start planning for your exit early. Terry helps you to maintain your success level and keep your vision alive even after exiting.
Know the right selling time.
When working with Terry, selling your business at its proper value is easy. He will help you to identify the best time to sell your business based on its value and market trends. Once you know the right time to sell your company, you can perform all necessary tasks before that time.
There are many risks associated with unexpected exits. For instance, you may give leadership to a non-visionary individual who may not steer the business to your envisioned success. Similarly, an unanticipated transition may severely affect the capability of your business to thrive and remain competitive. That is why seeking exit planning assistance from Terry H. Hill is crucial for any-size business. He will assist you in developing a solid exit strategy.
WHEN IS THE BEST TIME TO BEGIN WORKING WITH TERRY?

Starting early is the best approach to planning effectively for your exit. Identifying business owners' needs and other individuals with the potential to steer the business effectively takes time. Developing necessary exit plans and strategies also takes time. So, start planning your exit before leaving your business or transitioning to new roles.
WHOM DO I CONTACT TO START THE PROCESS?
If you are looking for exit planning strategy consulting services, look no further than Business Development Guru Terry H. Hill.
Terry and his trusted advisors will assist you effectively through exit planning and maximizing profits.
Terry offers a full array of exit planning services to ensure your organization has the talent supply when demand calls…
Terry has four decades of business development experience across a spectrum of industries. He is the go-to exit planning consultant for entrepreneurs and investors seeking a wide-ranging view with a laser focus on issues and challenges unique to their businesses.
Terry offers a FREE Exit Planning Briefing Session. This initial complementary 40-minute private virtual briefing session allows for the sharing and understanding of your problems, issues, and concerns that may impair the exit planning process…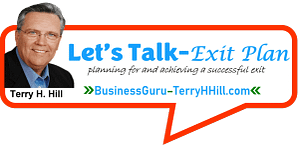 Schedule your complimentary 40-minute Exit Briefing session with Terry via The Scheduling Calendar.