STAGE #4…  Expansion
CHARACTERISTICS:
Your business has been a thriving company and established its presence in the industry. You have now reached the stage where your business will expand and spread its roots into new markets and distribution channels.
To start capitalizing on the success of your business, you will need to capture a larger market share and find new revenue. Therefore, your business will experience rapid growth in revenue and cash flow.
The rapid growth stage takes advantage of the proven sales, marketing, and operations models from your growth/survival stage.
STATISTICS:
According to Oberlo.com, 35% of businesses fail because of a lack of demand for their products or services. Founders and owners of such companies are so blindly passionate about what they sell that they need to validate if there is a need for it in the market. 
The main challenges in this stage relate to the following:
Increasing market competition
Accounting management
Moving into new markets
Adding new products/services
Expanding an existing business
GOAL(S):
Assist companies in strategically introducing complementary products and expanding geographically.
CHALLENGES:
Scaling your business geographically multiplies your earnings and brings multiple challenges. One of the main challenges of this phase is conducting adequate market research and analysis.
FOCUS ON THE FOLLOWING ACTION:

Define your targeted demographic, their interests, needs, and location.
Evaluate your current team's capacity to handle future growth. Do you have the right mix of in-house skills and resources to drive the inevitable change that comes with expanding into new markets?
Evaluate market entry methods to determine your business's best market entry method. Depending on your business model, you can expand through organic investment into an existing enterprise or acquire a current company as a going concern.
Connect with associates that can help you achieve your goals more efficiently.
Obtain an objective perspective on the strategies and actions needed to achieve your goals.
BOTTOM LINE:
Businesses rarely achieve lasting success by selling just a single product or service. If you are already successful with your product(s), you must expand your business by introducing new products or diversifying geographically.
INTERVENTION:
Business owners and founders intending to introduce new products and services or venture into new markets face various uncertainties. Expanding your business from determining the best product to stiff competition to legal and bureaucratic issues may seem almost impossible.
But you don't have to struggle with expansion uncertainties and issues alone. Thanks to the ease of hiring Business Development Consultant Terry H. Hill. Wondering how Terry assists businesses like yours to expand and thrive? Let's explore.
Expansion Consulting by Terry:
Expansion Consulting by Terry is an independent third-party guide to help startups and established businesses strategically introduce new products and services and expand geographically, whether locally, nationally, or internationally.
Terry will recommend new profitable products and the best markets by analyzing and identifying new and complementary products and uncovering hindrances to business expansion.
Terry has fast-hand experience acquired through decades of expanding businesses and advising other entrepreneurs and investors. Known as an "out-of-the-box" strategist, Terry keenly understands the issues and challenges affecting businesses at the expansion stage.
He is recognized for his creative problem-solving capabilities and exceptional ability to synthesize and communicate complex ideas.
Suppose you are looking for high-level advice on expanding your business. In that case, Terry will advise and counsel you on how to solve related issues, introduce complementary products and services, and expand geographically.
How does Expansion Consulting by Terry work?
Terry offers expert advice and guidance to businesses without managing them directly. He helps business owners and founders develop unique products and services that meet the needs of a sizeable market. 
Terry leverages his wealth of experience to help business owners introduce products that offer a significant ability to expand their brands and amplify revenue.
The services of Business Guru Terry H. Hill also come in handy in assessing how new products could interact with or even enhance existing business offerings. He assists you in visualizing more significant success and implementing strategies that steer you to projected goals.
Our retainer agreement is a contract between you and Terry that sets forth work that will be performed on an ongoing basis in exchange for a retainer fee. The agreement details the nature of the services to be provided and helps create a framework for working together in the future. Our retainer fee packages are available in four (4), eight (8), and twelve (12) hour blocks of time.
The weekly remote meeting sessions are typically 60 -90-minute duration via a private Zoom virtual meeting room.
With the help of Terry, you can target new yet similar markets and get your complementary products quickly launched to meet demands.
Considering the demands of running any multinational business, many investors engage Terry to conduct extensive market research to identify target audiences for their complementary products and services.
If you intend to expand your business locally or internationally, consider working with Terry to help launch and steer a global company.
Even if you haven't considered such a move because your home market is sizeable, the fact is that your local market represents just a portion of the global economy. Terry can help you leverage modern ICTs to expand nationally and internationally.
Benefits of Expansion Consulting by Terry

Whether you're a large enterprise, small or midsize business (SMB), your operation's underlying goal is to grow. But maintaining business growth without pushing boundaries is impossible—it's more likely to lead to stagnation than an increased consumer base.
As brands expand in a digitized global economy, a foreign market represents a limitless growth opportunity and potential gaps in products and services.
Selection of winning products
As businesses expand, keeping up with new market demands becomes quite challenging. Business owners must get them right when selecting winning products for their new markets. That is why seeking advice from Business Development Guru Terry H. Hill is a smart move. He helps businesses to build a stream of complementary and profitable products. Terry has a wealth of experience in market research and identifying unique products that complement existing products.
Identifying the right partners is critical for any business diversifying its services across multiple markets. Terry brings to the table years of experience assisting companies in partner selection. He helps you to define the kind of partners you need based on your business strategy. This process involves coming up with well-defined partner selection criteria. In addition, Terry is experienced in identifying business associates, screening them, conducting due diligence, and negotiating engagement terms.
Growth planning and strategy
Business development expert Terry H. Hill is skilled in developing strategies and plans for global businesses. He will help you to define a winning program and strategy to help you operate globally. The expert assists companies in assessing if their products and services are relevant to the market. If you intend to expand across states or globally, Terry will work with you to ensure your business can operate across different markets. For already established companies or franchises, he assists with reviewing and revising plans and strategies to maximize growth and profitability.
Operations and marketing support
After selecting winning products, choosing partners, and defining a strategy, it is critical to ensure flawless execution. Terry makes this process easy and stress-free. He makes navigating through social, legal, and cultural issues less complex. Suppose you lack the in-house talent to oversee and execute certain marketing and operation aspects. In that case, Terry can help in various ways, from conducting marketing research and developing marketing strategies to offering expert advice on operation optimization, accelerating market growth, and strategy implementation.
What is the best time to begin working with Terry?

Business owners should seek expansion consulting services when introducing new products and services. At this point, Terry will guide all aspects of introducing complementary products. You should also seek assistance from Terry when expanding your business operations locally, nationally, or internationally.
Whom do I contact to start the process?
Terry is the right expansion expert for your business if you want expansion consulting services. Making Terry H. Hill your expansion consultant for your new or established company is brilliant.
Terry has four decades of business development experience across a spectrum of industries. He is the go-to expansion consultant for entrepreneurs and investors seeking a wide-ranging view with a laser focus on issues and challenges unique to their businesses.
Terry offers a FREE Expansion Briefing Session – This initial complementary 40-minute private virtual briefing session allows for the sharing and understanding of your current expansion strategies, problems, issues, and concerns that may impair the business.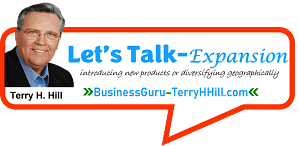 Click on the following text link to schedule your complimentary 40-minute Expansion Briefing session with Terry via The Scheduling Calendar.