STAGE #2…  Seed – Ideation

CHARACTERISTICS:
The beginning of your business's lifecycle is when you form an idea for your business. This stage, which even precedes the very existence of your business, is usually called the seed stage. You are about to plant your business seed and nurture it into success.
The seed stage, however, also refers to seed funding. During this early period, entrepreneurs look for investors that will provide capital and financial support to their startup. This includes a high level of project feasibility research by prospective investors.
Asking yourself whether your business idea will yield profits and provide quick ROI is one of the core considerations of the seed funding stage.
GOAL:
Estimate your idea's feasibility – if it's worth developing into a business.
CHALLENGE:
Various research studies found that over 40% of startups fail due to a lack of demand for their products or services. Identifying and pursuing a market niche that offers sustainable direction is the main challenge at the seed stage.
FOCUS ON THE FOLLOWING ACTION:

Reach out to investors: Financial support at this stage is crucial, so try to find individuals or organizations that may be interested in your project enough to provide monetary assistance. This will involve market and economic research to establish the project's feasibility.
Create a business plan: It is always important to analyze and establish the strengths, weaknesses, opportunities, and threats your business may encounter in the market you intend to enter. The financial foundation of your launch will be a significant factor in the success of your business, so try to plan as much as possible, to the very last detail.
Garner advice and opinion from professionals: Experienced industry specialists and entrepreneurs you may have access to, as well as business associates, friends, and colleagues who are competent in this regard, can provide valuable insight and opinions on the potential of your business idea. Inquire about their main takeaways from the seed funding stage of their projects and the significant obstacles they had to overcome.
Consider the market and your role in it: Ask yourself if the market is ready to accept your business and if your concept, product, service, or idea can fill an existing need in the market. How can your idea soothe the pain points of your prospective customers and clients?
BOTTOM LINE:
Seed-stage capital funding allows business leaders to hit the ground running with new ideas. The seed stage differs from other stages because many more key players are involved, including angel investors interested in aspects of the business other than ROI.
INTERVENTION:
As you begin researching the market and putting together the strategic blueprints — it starts to feel like this is an entirely new field for you. And the deeper you dig, the more question marks pop out.  How much will this cost?  Where to find the right people for my team?  Do I need a co-founder?  Should I charge a premium price or go for low-end leadership?  How do I acquire my first customers?  Is it a workable idea altogether?
But, thanks to the ease of hiring Business Development Consultant Terry H. Hill, you don't have to figure out everything independently.  Let's explore what Terry does for seed-idea-stage entrepreneurs like you and how he can help bring your business idea to fruition.
IDEATION CONSULTING BY TERRY:

Ideation Consulting by Terry is an independent third-party guide that focuses on creating, developing, and assessing ideas for establishing new and innovative businesses. It involves the generation, selection, and development of creative ideas.
Viable business ideas are generated, examined, and refined during this process. Ideation includes every phase of the mental process, from conception through actualization. A business idea must be thoroughly explored by determining related goods and services, creating a profile of the target market, and more.
A vital element of the process is introducing "best practices" of brainstorming, feasibility analysis, and how to research and identify profitable niche markets that Terry has acquired through decades of first-hand experience in starting and scaling businesses of his own and advising other independent entrepreneurs. Known as a critical thinker and an "out-of-the-box" strategist, Terry has gained a keen understanding of the issues and forces affecting today's business owners.
Terry is recognized for his creative problem-solving capabilities, skillful management and leadership qualities, and ability to harness individual and team input.  His exceptional ability to synthesize and communicate complex ideas has often meant the difference between people thinking about a solution and implementing it.
Seek high-level advice for evaluating your ideas. Terry will help you with advice and counsel on your overall business strategy, solving issues, scaling your business, and more.  
HOW DOES IDEATION CONSULTING BY TERRY WORK? 
In most cases, Terry does not manage a business directly but offers expert advice and guidance to the entrepreneur and management. The amount of time he works with different companies varies considerably. He may involve himself with a business for the short term (months) while working on a long-term (year or more) basis for others.
An initial discovery session with the entrepreneur/owner will determine the "scope of work" and the estimated time required for completion.  This information will form the core components of the Business Consulting Service Agreement.
The consulting engagement with you and your company is based on a policy of written confidentiality, nondisclosure, and non-compete agreements. These agreements establish trust, openness, honesty, professionalism, and commitment for our relationship and engagement to succeed.
Terry believes this policy ensures your confidence and integrity in the process.




Click here to download a copy of our Code of Ethics.
Our retainer agreement is a contract between you and Terry that sets forth work that will be performed on an ongoing basis in exchange for a retainer fee. The agreement details the nature of the services to be provided and helps create a framework for working together in the future.  Our retainer fee packages are available in four (4), eight (8), and twelve (12) hour blocks of time.
The weekly remote meeting sessions are typically 60 -90-minute duration via a private Zoom virtual meeting room.
Various uncertainties and limitations of resources are standard when it comes to the seed-idea stage. Even if you have adequate resources to start and run a business, you need to take the time and dedicate the resources to determine if your idea is feasible or not before you jump into the turbulent waters of starting a business. This is especially true if you are new to the industry or business environment… 
That is why Ideation Consulting by Terry is vital.
THE BENEFITS OF IDEATION CONSULTING BY TERRY

Ideas spur innovation, aid in improving goods or services, foster the growth of new businesses, and support progress. Though ideation is frequently mentioned with design thinking, it is essential to note that ideation has advantages beyond creating new products.
Ideation helps find solutions to various issues and possibilities influencing the entire business. To be most effective, ideation should be incorporated into the company's strategy. Let's now focus on some key benefits of ideation consulting.
Increases innovation opportunities.
Ideas are generally considered to be good when they have the potential to become something that benefits both the company and the client. The benefit of ideation is that it permits the generation of many ideas, and the more views one has, the more likely the person will have good ideas.
A wide range of options is the key to developing creative ideas. There will inevitably be many bad ones, but if the ideation process includes evaluation and refining, you can identify the ones with the most significant potential for innovative results. Even if they do not work out, you will better understand the problems currently occupying your company's top minds.
Brings together diverse ways of thinking.
The kind of ideation consultants you will get together with will depend on the goal of your ideation and the desired result. It's essential to include a variety of individuals with various backgrounds, skills, and experiences in your brainstorming process for the most significant outcomes.
Additionally, a more sophisticated ideation process allows individuals to share ideas transparently and build on each other's thoughts through feedback and review. Unlike a suggestion box, this may become chaotic and prevent human connection.
Advances and refines ideas into better ones.
Spray-and-pray approaches do not work well for ideation processes. Even though it sometimes works, coming up with ideas and hoping one is chosen is not the strategy businesses should use.
Instead, challenge existing ideas and simplify choosing the most promising ones using an ideation process. Ideation consulting processes are planned to address a specific difficulty or aim for a particular objective. Executives have the finest atmosphere to create and polish ideas when they use an excellent ideation method.
Promotes an open and innovative culture.
Ideation consulting involves more than just ideas. It also has to do with the culture that fosters within a company. When encouraged to join and express themselves openly, people feel more connected to the cause and feel a sense of belonging. This allows them to contribute to the end goal and their work methods actively.
WHEN IS THE BEST TIME TO BEGIN WORKING WITH TERRY? 

The time is now because the expert support and assistance you obtain during the ideation stage of your business are most critical. This is because a "first-to-market" initiative is a top priority in today's competitive global economy. Much needs to be done correctly; to do that, entrepreneurs and investors seek ideation consulting services from Terry!
WHOM DO I CONTACT TO START THE PROCESS OF WORKING WITH TERRY? 

Terry H Hill is the perfect individual to seek out and contract for ideation consulting services.  As your business development guru, Terry has the expertise and experience to help you develop and evaluate innovative ideas that could drive your dream venture.
Terry offers a FREE Ideation Briefing Session – This initial complementary 40-minute private virtual briefing session allows for the sharing and understanding of your current startup strategies, problems, issues, and concerns that may impair the ideation process from being successful.
As an ideation consultant, Business Guru Terry H. Hill can help you develop and evaluate innovative ideas that could drive your dream venture.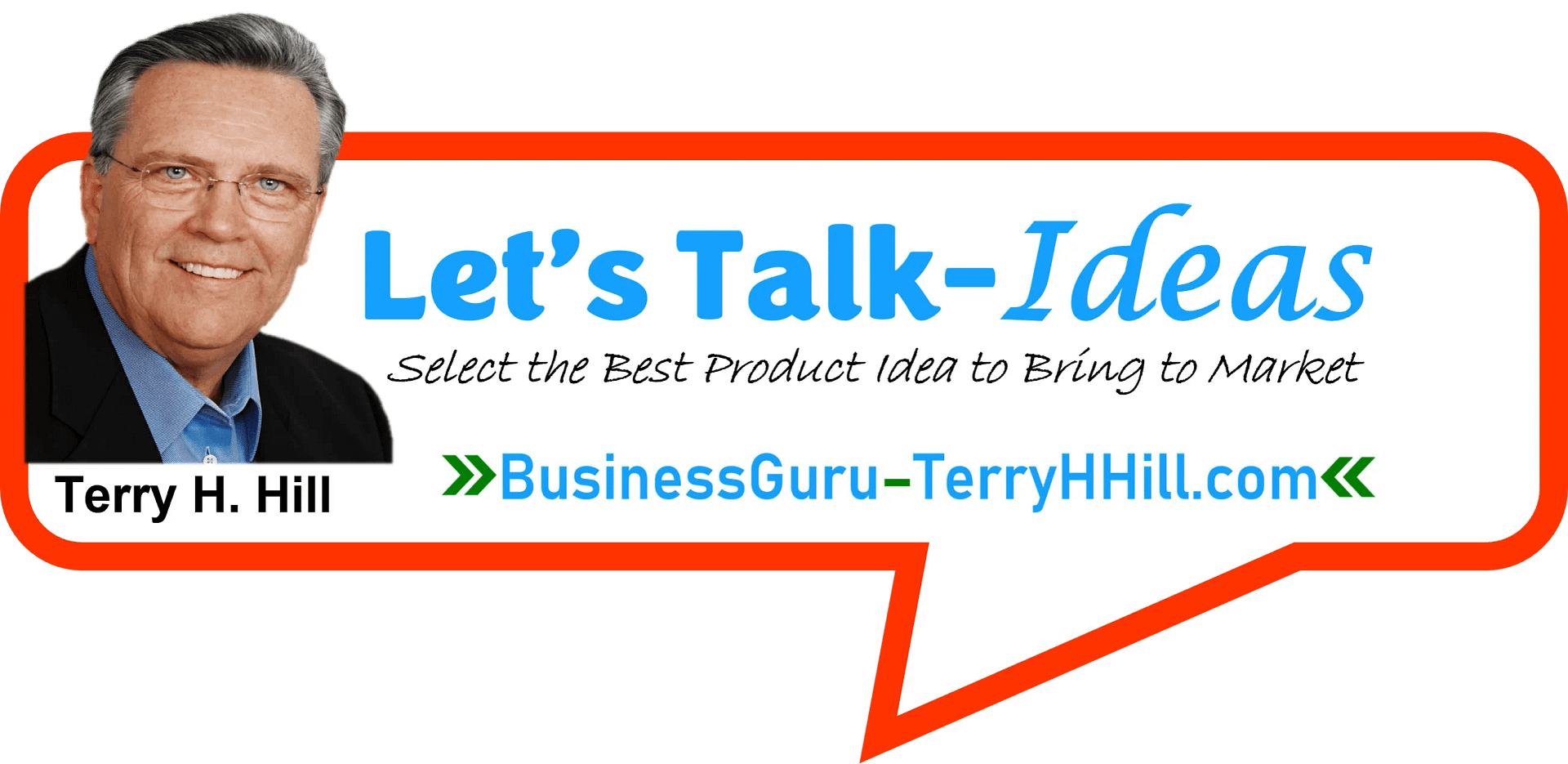 Schedule your complimentary 40-minute Ideation Briefing session with Terry via THE SCHEDULING CALENDAR.