STAGE #4…  MATURITY

CHARACTERISTICS:
The maturity phase is one of the shortest segments of the business life cycle. Companies can have a false sense of security during this phase. Operations are intact, and the business process is mature. It is a wash–rinse and repeat time for the business. The acquired reputation of the company drives customer attitudes toward its products and service.
The maturity phase of the company means that the operating principles change. A conservative attitude prevails, and management is adverse to taking risks. Even as competitive threats emerge, the founders refuse to acknowledge these threats adopting a perspective of what worked in the company's early stage. Customers and consumers might change, but these companies do not.
Your business could still grow, but not at the actual rate you've previously experienced. Your current option is to step back toward the expansion stage or consider a possible exit strategy.
Maturity does not automatically lead to long-term success.
STATISTICS:
The U.S. Bureau of Labor Statistics shows that less than 50% of businesses last five years or beyond, and fewer than a third make it to 10 years or more. These statistics suggest that many companies only live part of the business lifecycle.
Every stage of the business lifecycle brings new or pre-existing challenges. Solutions that may have worked for one stage may not work in another, so you should constantly adjust your business plan and operations accordingly.
GOAL(S):
Help your business maintain an innovative culture by reinventing yourself.
CHALLENGES:
Since mature businesses have a strong cash flow, more brand awareness, and the capacity to address issues, business owners gain a sense of safety and security. As a result, staying stagnant is a common challenge in this stage.
Moreover, mature businesses encounter challenges relating to the following:
Increasing market competition
Accounting management
Moving into new markets
Adding new products/services
Expanding an existing business
Exit strategy
FOCUS ON THE FOLLOWING ACTION:
Overcoming stagnation: Any mature business risks losing momentum regarding market share, revenues, etc. If you stagnate, maintaining the status quo will only worsen your situation. You need to stop and assess your strategy to identify and address issues.
Increase market penetration: Find out the potential market size of your business and develop strategies for introducing new products or services and increasing your overall market share.
Increase cash flow: Develop a business model that will drive consistent cash flow that will help to retain talent and provide consistent business growth.
BOTTOM LINE:
Despite challenges that could make a mature business lose its market share and struggle again, knowing what you should do and execute regularly is vital to remaining competitive and increasing profits. Understanding where you are, where you want to go, and how you will get there.
INTERVENTION:
Running a mature business may seem easy since it has a strong cash flow and market presence. But challenges such as increasing market competition, expanding your existing business, and venturing into new markets make it almost impossible for a business owner to do it with help.
But, thanks to the ease of hiring Business Development Consultant Terry H. Hill. You don't have to figure out everything yourself. Let's explore what Terry does for mature businesses like yours and how he can help your business thrive.
MATURITY CONSULTING BY TERRY: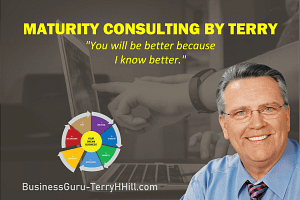 Maturity Consulting by Terry is an independent third-party guide geared towards entrepreneurs in the maturity phase of their venture. By contacting Terry, you can access his four decades of small business development experience across a spectrum of industries while working with global entrepreneurs.
You can lean on Terry to supplement your energy, experience, and time. It is common for business owners to become blind to issues and challenges around them. This happens due to bias or being too close to problems/challenges to see them.
Terry's vantage point allows him to provide constructive feedback and criticism that would go unnoticed.
Contacting Terry H. Hill gives you fresh eyes to spot the real issues holding your business back.
As a business owner, nobody knows your business more intimately than you. While that is fine, it can also be detrimental to your success. When you're inside the fishbowl, it's hard to know what it looks like. As your business consultant, Terry provides a wide-ranging view with a laser focus to uncover the issues and challenges that are uniquely yours.
HOW DOES MATURITY CONSULTING BY TERRY WORK?
In most cases, Terry offers expert advice and guidance to businesses without managing them directly. Terry assists by advising business owners on the best techniques and strategies to implement to avoid staying stagnant.
He works with business owners to educate them about potential risks in the maturity stage and the best ways to overcome them. With the help of Terry, businesses can prepare adequately for any foreseeable or unexpected changes in the market.
As a Business Maturity Expert, Terry helps mature businesses chart and stay on course. His unbiased and objective viewpoint lets business owners know what they are doing right and areas that require improvement. He helps them remain in the same dramatic growth and development cycle as the previous growth stage.
BENEFITS OF MATURITY CONSULTING BY TERRY

Having successfully navigated the expansion stage of the business lifecycle, your company should now see stable profits year-on-year. While some companies continue to grow the top line at a decent pace, others struggle to enjoy those same high growth rates. 
Maturity Consulting by Terry will provide you with the following:
Access to solid experience and expertise
Business Development Guru Terry H. Hill leverages his expertise and wealth of experience in supporting mature businesses to identify often unseen gaps and issues. Working with Terry helps you to make very accurate predictions about the impact of your business strategies and plans. He can help you know what methods will work best for your business.
Entrepreneurs capitalize on Terry's skills and experience to appropriately focus their resources and energies. Moreover, mature businesses rely on Terry to know the changes they should implement in different areas, such as operations and strategy.
Market penetration advice
A good understanding of market penetration is critical at the business maturity stage. Just because your business has achieved successful growth, a boost in revenue, or increased brand awareness doesn't mean you should rest. Instead, it would help if you worked with Terry to assess market penetration.
He will help you to evaluate your current offerings versus the estimated cumulative market for such offerings. This assessment results in a clear understanding of the potential market size.
Terry assists businesses in regularly measuring their market penetration to detect any increase or decrease in penetration. He helps companies to develop the right strategy for increasing market share, allowing them to quickly change, expand, and adapt to new market trends.
Your business vision shows what you and your team aim to achieve. Many businesses with great potential fail to achieve their goals because they need more clarity in their vision. If your team needs to understand where you want your business, they may not help you. That is why successful investors engage Terry to define their visions clearly. They rely on him to develop and implement effective strategies that allow them to steer their brands to success. Thus, seeking Terry's services is necessary and beneficial for any business that wants to deliver its promise successfully.
Selection of maturity model
Terry helps businesses to select and use the suitable maturity model based on their industry or specialty. He uses maturity models to determine a business's long-term performance and trajectory. As a business owner, you benefit by obtaining flexible performance monitoring about the health and potential of your business and more.
WHAT IS THE BEST TIME TO BEGIN WORKING WITH TERRY?

If your business is approaching or already in maturity, you should contact Terry H Hill. For companies with products or services performing very well in the market, Terry can help them visualize and target more success.
If your business is experiencing a decline in market share, Terry can help you quickly identify the root causes of such issues and support you in increasing market penetration.
WHOM DO I CONTACT TO START THE PROCESS?
Terry is a suitable Maturity Expert for your business if you seek maturity consulting services. Making Terry H. Hill your maturity consultant for your new or already established business is brilliant.
Terry has four decades of business development experience across a spectrum of industries. He is the go-to maturity consultant for entrepreneurs and investors seeking a wide-ranging view with a laser focus on issues and challenges unique to their businesses.
Terry offers a FREE Maturity Briefing Session – This initial complementary 40-minute private virtual briefing session allows for the sharing and understanding your current growth strategies, problems, issues, and concerns that may impair the business.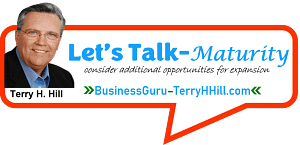 Schedule your complimentary 40-minute Maturity Briefing session with Terry via
The Scheduling Calendar.