STAGE #2…  Launch Startup

CHARACTERISTICS:
Decided that your business idea is worth pursuing and have made your business entity legal. In this stage, you've finished developing your business's products or services and will begin marketing and selling.
During this stage, you will be tweaking your products or services according to the initial feedback from your first paying customers and market demand. You must learn and adjust your business model to ensure profitability and meet customer expectations. Modifying your business model can set your business on the right track.
STATISTICS:
According to the  U.S. Department of Labor, Bureau of Labor. Statistics show that approximately 20% of new businesses fail during the first two years of opening, 45% during the first five years, and 65% during the first ten years. Only 25% of new businesses make it to 15 years or more. These statistics have mostly stayed the same over time and have been consistent since the 1990s.
Though the odds are better than the commonly held belief, many businesses close yearly in the United States.
According to Oberlo.com, the five (5) reasons why small businesses fail are:
Lack of Cash (38%)
No Market Need (35%)
Could not Compete (20%)
Flawed Business Model (19%)
Regulatory/Legal Challenges (18%)
GOAL(S):
Make your business operational, sustainable, and, most of all, profitable.
CHALLENGES:
Only 15.8% of businesses move from the startup to the growth stage within a year. The main challenge of this stage is to develop a business model that will turn a profit, attract new customers, and retain employees.
 

FOCUS ON THE FOLLOWING ACTION :

Establish a business structure: At the beginning of the startup stage, your employees will likely wear many hats. Everybody does a little of everything, which is a prerogative for any new enterprise. Still, a corporate structure must exist for the company to keep growing beyond this phase.
Consistently implement new ideas: During the startup phase, you meet people and develop new ways to sell your products or services. Listening to customer feedback and trying new ideas will clarify what aspect of your product(s) or service(s) to focus on in the future.
Figure out a sustainable cash flow: This is the right time to develop a business model that provides a consistent cash flow that will, in turn, provide consistent growth and the ability to retain old employees and hire new ones.
Face and overcome various challenges: Managing cash reserves and sales expectations while establishing a customer base and a market presence are some of the most extensive trials you will have to confront with decisiveness at this particular stage of the business life cycle.
BOTTOM LINE:
Despite the startup failure rate, learning from your mistakes in business and the mistakes of others is the key to startup success and survival. Appreciate the competition, know where you stand, and take note of all startup trends to be at the top of your startup's industry.
INTERVENTION:
Running a small business is challenging because of the sheer number of tasks to succeed.  From accounting to human resources to technical support, it's almost impossible for you as a business owner to do it yourself.  But, thanks to the ease of hiring Business Development Consultant Terry H. Hill, you don't have to figure out everything independently.  Let's explore what Terry does for startups like yours and how he can help your business thrive.
START-UP CONSULTING BY TERRY: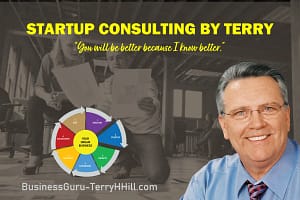 Start-Up Consulting by Terry is an independent third-party guide that provides interim management and advisory assistance to new and early-stage entrepreneurs in the startup phase of their venture.  By identifying any loopholes within the various operational functions, uncovering hidden challenges, and discussing any issues the leader(s) faces, Terry will suggest how to mitigate risks and better leverage resources.
A vital element of the process is introducing "best practices" Terry has acquired through decades of first-hand experience in starting and scaling businesses of his own and advising other independent entrepreneurs. Known as a critical thinker and an "out-of-the-box" strategist, Terry has gained a keen understanding of the issues and forces affecting today's business owners.
Terry is recognized for his creative problem-solving capabilities, skillful management and leadership qualities, and ability to harness individual and team input.  His exceptional ability to synthesize and communicate complex ideas has often meant the difference between people thinking about a solution and implementing it.  
If you are looking for high-level advice for your startup, Terry will help you with advice and counsel on your overall business strategy, solving issues, scaling your business, and much more.
HOW DOES START-UP CONSULTING BY TERRY WORKS?

In most cases, Terry does not manage a business directly but offers expert advice and guidance to the entrepreneur and management. The amount of time he works with different companies varies considerably. He may involve himself with a business for the short term (months) while working on a long-term (year or more) basis for others.
An initial discovery session with the entrepreneur/owner will determine the "scope of work" and the estimated time required for completion.  This information will form the core components of the Business Consulting Service Agreement. 
The consulting engagement with you and your company is based on a policy of written confidentiality, nondisclosure, and non-compete agreements. These agreements establish trust, openness, honesty, professionalism, and commitment for our relationship and engagement to succeed. Terry believes this policy ensures your confidence and integrity in the process. 
Terry believes this policy ensures your confidence and integrity in the process.




Click here to view a copy of our Code of Ethics.
Our retainer agreement is a contract between you and Terry that sets forth work that will be performed on an ongoing basis in exchange for a retainer fee. The agreement details the nature of the services to be provided and helps create a framework for working together in the future.  Our retainer fee packages are available in four (4), eight (8), and twelve (12) hour blocks of time.
The weekly remote meeting sessions are typically 60 -90-minute duration via a private Zoom virtual meeting room. 
Various uncertainties and limitations of resources are standard when starting new businesses and steering them in the early stages. Even if you have adequate resources to start and run a business, it can take time to scale it to a greater height. This is especially true if you are new to the industry or business environment…  That is why Startup Consulting by Terry is vital.
THE BENEFITS OF START-UP CONSULTING BY TERRY
Start-Up Consulting by Terry provides guidance and support to entrepreneurs starting a new business.  The benefits of this service are as follows:

Most startups rely on their current personnel, experience, knowledge, and skill and ignore external changes and influences. This is why obtaining honest and unbiased advice from Terry H. Hill is extremely valuable to entrepreneurs, as he is a critical and trusted resource.
Terry gives the much-needed outsider perspective on your startup operations and strategy. He offers advice not only on the concept of your business but also on the specifics of business execution and other mission-critical factors.
No matter how viable or profitable the blueprint of a business is, it is just a document on paper or a computer if not implemented. The same is true if you need more relevant business expertise and experience. Terry's decades of startup experience and insightful advice may be applied to different sectors, and his expertise provides a wide range of consulting services.
Young startup founders who have chosen to pursue their passion need to be more experienced in running a business. Because of apparent limitations such as young age and little or no experience, one may be considered to lack the necessary managerial knowledge or expertise to steer a venture in the right direction. Terry is an expert consultant in starting and managing new businesses and can offer management guidance to a young, relatively inexperienced CEO who is still learning the art of steering a business.
Strategic planning is one of the primary services offered by Business Development Guru Terry H. Hill.  He helps clients via analysis, analytics, and strategy.  Any firm must strategize, but startups especially need to do this. To prepare crucial milestones for their beginning firm, clients collaborate with Terry. One of the biggest challenges for a startup firm is the need for a clear strategy. Your firm will have a strategic plan and a roadmap created by startup consultant Terry.
Terry extensively researches the industry and the market niche you intend to expand your firm. One of the critical resources for making strategic company decisions is market research. Market research may include your clients' demands, rivals' skills, and industry trends. Expert startup consultant Terry is recognized for his ongoing examination of market dynamics and trends, which keeps clients informed of changes and developments across all industry sectors and enables him to advise you of any promising opportunities.
In addition to the above benefits, Terry helps businesses identify and eliminate non-functional processes. He assists in the creation of a scaling strategy and concrete business roadmap. New companies can also seek startup consulting services by Terry relating to process automation and securing funding for future development.
WHEN IS THE BEST TIME TO BEGIN WORKING WITH TERRY? 


The expert support and assistance you obtain during the early stages of your business are most beneficial. This is because starting a new venture and running a successful business isn't an easy task. Much needs to be done correctly; to do that, entrepreneurs and investors seek startup consulting services from Terry.
Terry will help to develop marketing and scaling strategies, solve issues, and do much more for your new business.
WHOM DO I CONTACT TO START THE PROCESS? 

Terry H Hill is the perfect individual to seek startup consulting services.  As your business development guru, Terry has the expertise and experience to take your business to the next level. He works directly with entrepreneurs on their business life cycle stages, from ideation, startup, growth, expansion, maturity, succession, and exit.
Terry offers a FREE Startup Briefing Session – This initial complementary 40-minute private virtual briefing session allows for the sharing and understanding of your current startup strategies, problems, issues, and concerns that may impair the business or provide growth or competitive advantage opportunities.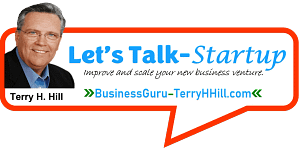 Schedule your complimentary 40-minute Startup Briefing session with Terry via The Scheduling Calendar.