STAGE #5…  Succession Planning
CHARACTERISTICS:
Most organizations have succession planning, such as training and development programs, career paths, competency models, etc. Succession planning consulting aims to align these pieces to create coherent succession planning that produces qualified successors for critical positions.
The success of your business depends on the continuity of quality leadership. A seamless and successful transition is critical to business continuity, even if you have strong talent within your leadership pipeline. As a business owner, your current option is to plan effectively for succession.
STATISTICS:
According to the U.S. Department of Labor, the cost of making a wrong appointment decision is at least 30% of the person's first-year earnings. This statistic underscores the importance of developing and retaining top talent, especially at the leadership and management levels.
According to Avenueleadership.com, 90% of teams whose leaders ensured smooth and successful transition achieve their 3-year performance goals and generate 5% more revenue and profits than average.
GOAL(S):
Help you identify critical positions in your company and create action plans to facilitate talent development and smooth transitioning.
CHALLENGES:
While most business owners believe in the urgency of effective succession planning, only a few take the necessary action to achieve it. The five (5) common challenges associated with poor leadership transitions are:
Failure to develop talent
Choosing the wrong successor
"Like Me" bias
Procrastination
Lack of strategy

FOCUS ON THE FOLLOWING ACTION:
Attract, develop, and retain top talent at all levels.
Match individuals' skills and experience to organizational needs to meet future business needs and identify potential career opportunities.
Utilize individualized growth and development opportunities.
Develop a robust and diverse pool of internal applicants for critical positions.

BOTTOM LINE:
If you solely manage your business, a time will come when it will be tough for you to run the business yourself. Although developing qualified successors takes time and other resources, the effort is worth it. Therefore, start succession planning as an iterative process for successive waves of target positions.
INTERVENTION:
Achieving effective succession planning can be challenging and complicated for any-size business. From developing successions plans and strategies to identifying potential successors to training them effectively, it is almost impossible for any business owner to do it with help. But thanks to the ease of hiring Business Development Consultant Guru Terry H. Hill, you do not have to struggle to figure out everything alone.
Let's explore how Terry assists businesses like yours to prepare effectively for succession.
SUCCESSION PLANNING CONSULTING BY TERRY: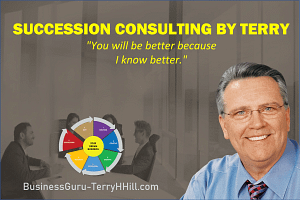 Succession planning consulting by Terry is an independent third-party guide that assists businesses in the succession planning phase. Terry offers various services to support organizations through their leadership transitions effectively. As a business owner, he helps you to design, improve, and implement effective emergency and long-term succession plans.
Terry will help you identify critical positions in your organization and create action plans and strategies to facilitate qualified individuals to take on those positions. Terry and his team will help you assess future needs, talent development strategy design, employee engagement and outreach, plan implementation and success assessment, and revisit/refine the strategy as new priorities and challenges emerge.
HOW DOES SUCCESSION PLANNING CONSULTING BY TERRY WORK?
Terry starts by capturing a full-view perceptive of your organization and creating a plan for the future. As a succession planning consultant, he shows you what good leadership looks like and helps you prepare for change by understanding your talent and needs.
In particular, Terry helps you to identify roles with a significant impact on the performance of an organization. These include positions that would be most difficult to replace. Placing the correct parts leads to successful outcomes in the succession planning process.
Then, he will help you build success profiles for each identified position by interviewing supervisors and other incumbents. This process involves forecasting the demand for successors for the target roles based on employee planning data. It also includes an evaluation of the current pipeline of potential individuals against existing gaps and success profiles.
Ultimately, the succession planning consulting by Terry aligns staff development, training and development, and career path with increasing the pool of competent successors that can fit the success profiles. Early and active involvement of the leadership is the most critical success factor in establishing an effective succession planning program.
THE BENEFITS OF SUCCESSION PLANNING CONSULTING BY TERRY

An old saying explains the inherent benefits of succession planning best: If you fail to plan, you plan to fail.
Succession Planning Consulting by Terry provides:
Over the past four decades, Business Development Guru Terry H. Hill has acquired significant knowledge and diverse skills in succession planning while assisting and supporting different organizations. As a business owner, you would take years to achieve similar expertise. That is why it's wise to seek succession planning assistance from Terry so that you may concentrate on addressing various competing demands in your business. With solid expertise and experience, Terry can customize plans to the unique needs of your business to guarantee success.
The proven succession planning approach
Terry leverages years of experience to help your organization establish a successful succession planning program. He helps you to understand what should be done at every stage of the program. The succession expert implements proven methods and processes to identify critical roles and potential successors and measure success successfully.
Any succession planning process without a strong perception of transparency and fairness within a company will fail. Terry brings much-needed objectivity to the table. He adopts an outsider viewpoint, which allows him to perceive a reality that insiders may not see or perceive objectively. In addition, the succession planning expert uses various tools to support and enhance his impartiality. By providing objective insights, Terry helps organizations to develop succession plans and strategies that prevent possible gaps in experience and knowledge.
Succession accountability
Many organizations need to prioritize succession planning. Unfortunately, some realize the need for succession planning only after experiencing talent gaps. But Terry helps to keep a business accountable and supports it in achieving desired milestones. This is achieved in various ways, such as organizing workshops that allow leaders to collaborate and plan for succession.
Some organizations may have built succession planning programs successfully using their internal resources. But doing that often takes significantly longer and may not be done correctly or traditionally. But Terry accomplishes the same faster using fewer resources. He leverages his experience to develop more objective, structured, efficient succession plans and programs. Besides, he uses lessons learned early to refine and deliver programs on time.
WHAT IS THE BEST TIME TO BEGIN WORKING WITH TERRY?

As a business owner, you can begin succession planning anytime if you have critical roles that may become vacant. It would help if you did not wait to plan for succession when you can no longer run your business daily. The earlier you pursue succession planning consulting, the better.
WHOM DO I CONTACT TO START THE PROCESS?
Business Guru Terry H. Hill will help you with all your succession planning needs. He has vast experience in succession planning. Terry offers a full array of succession planning services to ensure your organization has the talent supply when demand calls…
Terry has four decades of business development experience across a spectrum of industries. He is the go-to succession planning consultant for entrepreneurs and investors seeking a wide-ranging view with a laser focus on issues and challenges unique to their businesses.
Terry offers a FREE Succession Planning Briefing Session. This initial complementary 40-minute private virtual briefing session allows for the sharing and understanding your problems, issues, and concerns that may impair the succession planning process…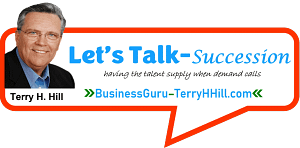 Schedule your complimentary 40-minute Succession Briefing session with Terry via
The Scheduling Calendar.